There's so much telly to get excited about this January on BT TV.
Bancroft is back on ITV for its highly anticipated second season, and Sex Education returns to Netflix with a bang.
And if you're looking to get your teeth into something new, Richard Hammond's Big premieres on Discovery this month, and Our Man in Japan - hosted by his Grand Tour chum James May - kicks off on Prime Video.
Keep reading for our must-watch guide for the month ahead, and what's coming to BT TV later this year.
And don't forget, with BT TV, you can access catch-up services for Freeview channels, watch Amazon Prime Video and Netflix, and buy or rent box sets from the BT TV Store - depending on your subscription.
What to watch in January 2020
Dracula
When is it on?
Dracula will premiere on BBC One on New Year's Day.
What's it about?
According to the BBC, this re-imagining of the famous tale will reintroduce the world to Dracula (Danish actor Claes Bang, pictured above), the vampire who made evil sexy. In Transylvania in 1897, the blood-drinking Count is drawing his plans against Victorian London. And be warned: the dead travel fast.
Why watch it?
It's been written and created by Steven Moffat and Mark Gatiss, known for their work on Doctor Who and Sherlock.
Bancroft series 2
When is it on?
Bancroft is set to get the New Year off to a high-ratings start on ITV, with a launch date of New Year's Day at 9pm and subsequent episodes airing on January 2 and 3.
What's it about?
Created and written by Kate Brooke (Mr Selfridge), leading actress Sarah Parish plays respected police officer DCI Elizabeth Bancroft, a woman with dark secrets in her past.
In the first season of Bancroft, we met the ruthless and courageous copper. In season 2, Bancroft has been building on her success and reputation as a good cop, but when a disturbing double murder brings her professional and personal life clashing together, she must face a chilling new enemy.
Why watch it?
The first season of Bancroft on ITV was one of the channel's best performing dramas of 2017.
Doctor Who
When is it on?
The 12th season of Doctor Who premieres New Year's Day on BBC One.
What's it about?
We'll be welcoming back Jodie Whittaker, who took up the mantle of being the first ever female Doctor in series 11. Plot details for season 12 and why the opening episode - penned by show boss Chris Chibnall - is called Spyfall are yet to be confirmed.
Why watch it?
Famous faces including Stephen Fry, Sir Lenny Henry, Robert Glenister and Goran Visnjic are set to appear.
Premier League
When is it on?
Catch all the Premier League action on Wednesday, January 1 and Thursday, January 2, and from Tuesday, January 21 to Thursday, January 23.
What's it about?
BT Sport is bringing in 2020 in style by showing every single Premier League game on New Year's Day. Man Utd's trip to Arsenal (8pm kick off) will round off an exceptional day of wall-to-wall live coverage on New Year's Day. Then the next day, Liverpool host Sheffield United (8pm kick off) in what promises to be a captivating night under the lights at Anfield.
BT Sport is also broadcasting a huge set of midweek fixtures in late January.
Sheffield Utd v Man City and Chelsea v Arsenal take place on Tuesday 21 January, Leicester v West Ham, with Man Utd v Burnley on Wednesday 22 January and Wolves v Liverpool on Thursday 23 January.
Why watch it?
BT Sport is the only place to watch all the thrills and spills from the first round of the Premier League in 2020. Will Jürgen Klopp's Liverpool take another step towards a first league title in 30 years? Can defending champions Manchester City, above, begin to apply pressure on the runaway leaders? With all 20 Premier League sides in action over two unmissable days, settle in for a feast of elite-level action.
In an added bonus, BT Sport customers will be able to watch all the goals as they go in during the 3pm and 5.30pm kick-offs in a special edition of BT Sport Score (2.45pm-7.45pm).
Our Man in Japan
When is it on?
Our Man in Japan premieres Friday, January 3 on Amazon Prime Video.
What's it about?
Fifteen years after James May first visited Japan as a baffled tourist, he embarks on a quest to understand the unique, extraordinary and complex country.
James will embark on an epic journey across all of Japan from North to South, determined to understand why this unique land and its people are the way they are, what drives their culture and what their approach to life can teach the rest of us.
Why watch it?
Our Man in Japan is the service's first spin-off show featuring one of the three Grand Tour presenters since they left the BBC for Amazon Prime.
WWE
When is it on?
Smackdown is every Friday night beginning on Saturday, January 4 at 1am, while RAW is every Monday night beginning on Tuesday, January 7 at 1am, both on BT Sport 1.
What's it about?
BT Sport is the new home of WWE in the UK and Ireland after signing a new multi-year deal in October. The partnership will make WWE's weekly flagship programming available exclusively on BT Sport in the UK and Ireland from January 2020.
Why watch it?
BT Sport will air both Raw and SmackDown exclusively live every week, delivering edge-of-your-seat action and showcasing the world-class athleticism from global superstars including Roman Reigns, Becky Lynch, Seth Rollins, Kofi Kingston and Charlotte Flair.
Monthly pay-per-view events, including WrestleMania, will be available on BT Sport Box Office.
Death in Paradise season 9
When is it on?
Death in Paradise returns for its ninth season on Thursday, December 9 at 9pm on BBC One.
What's it about?
Set on the fictional island of Saint-Marie, this murder mystery series follows the adventures – and often misadventures – of a sucession of British-based detectives who are transferred from their gritty London jobs to the sunny Caribbean island.
Why watch it?
Ardal O'Hanlon has announced that he is waving goodbye to the BBC crime drama after three sun-soaked years, with Ralf Little joining the show as the replacement lead detective.
Richard Hammond's Big
When is it on?
Richard Hammond's Big premieres on the Discovery Channel (BT channel number 322 / 376 HD) on Wednesday, January 15.
What's it about?
The new, epic engineering series will go global in its mission to explore the world's biggest structures and machines.
Why watch it?
Richard Hammond searches out the seriously supersized and gets hands-on as he climbs, flies and drives these engineering giants, getting directly involved with the people who help make these brilliant big things tick.
Sex Education season 2
When is it on?
Sex Education returns to Netflix for its second series on Friday, January 17.
What's it about?
Sex Education is about Otis Milburn, a socially awkward high school student who lives with his sex therapist mother, Jean. In season 1, Otis and his friend Maeve Wiley set up a sex clinic at school to capitalise on his intuitive talent for sex advice.
In season 2, late bloomer Otis must master his newly discovered sexual urges in order to progress with his girlfriend Ola while also dealing with his now strained relationship with Maeve.
Why watch it?
Sex Education has been described as the "best British teen drama since Skins".
Champions Cup
When is it on?
Catch all the action from Friday, January 10 to Sunday, January 12, and from Saturday, January 18 to Sunday, January 19, on BT Sport 2 & 3.
What's it about?
BT Sport will broadcast two rounds from one of the most wide-open Champions Cup seasons in recent years in January.
There are a mammoth 20 live games across two huge back-to-back weekends of rugby and every single minute of Europe's premier club rugby competition will be available to watch live on BT Sport, including the knockout stages and the June 2020 final in Marseille.
Why watch it?
Glasgow Warriors v Exeter Chiefs, Saracens v Racing 92 and Toulouse v Gloucester feature in an unmissable fortnight of European rugby beginning on Friday 10 January. Northampton Saints, Bath, Harlequins, Sale Sharks, Ulster, Ospreys and Connacht are also in action in January.
Can champions Saracens, above, bounce back from their salary cap saga and reach the quarter-finals? Will Exeter finally make their mark on Europe? With home quarter-finals and places in the knockout stages up for grabs, don't miss a crunch Champions Cup double-header in January.
If you miss any of the action, you can tune into the Champions Cup highlights show on Sunday 12 January and Sunday 19 January from 5.30pm on BT Sport 2 HD and online.
Looking further ahead - TV shows we can't wait for
Liar series 2
When is it on?
A second series of ITV drama Liar will soon, according to RadioTimes.com.
Confirmed. Laura AND Andrew will be back for Liar series 2... pic.twitter.com/GLM7aiHTmG

— ITV (@ITV) October 16, 2017
It was announced in April 2019 that filming for series 2 had started, with Katherine Kelly (Cheat), Howard Charles (The Widow, Musketeers) and Amy Nuttall (Downton Abbey) joining the cast.
What's it about?
The first series of Liar told the tale of serial rapist Andrew Earlham (Ioan Gruffudd) and his victim Laura Nielson (Joanne Froggatt), who fought to bring him to justice.
The plot for the second series hasn't been announced.
Why watch it?
Froggatt and Gruffudd will both return for the new series, which will again be written by Jack Williams and Harry Williams of Two Brothers Pictures.
Marcella series 3
When is it on?
According to Variety.com, the third season of Marcella is coming to ITV soon.
A first-look picture from the set of series 3 was released in March 2019:
New Just In: @AnnaFriel is back as #Marcella for a third series... and she's on a one woman mission. Coming soon to @ITV pic.twitter.com/E5YwuQSMk6

— ITV (@ITV) March 26, 2019
What's it about?
Friel plays cop Marcella Backland, who is tackling the cases of serial killers while fighting her own demons – a series of recurring blackouts and a break-up with her husband.
The crimes got even darker in series two as Marcella took on the case of a disturbing child killer.
The plot for the third series hasn't been announced.
Why watch it?
Marcella has a strong Nordic Noir vibe thanks to writer Hans Rosenfeldt, creator of Scandanavian classic The Bridge.
Belgravia
When is it on?
The brand new ITV drama is coming to ITV in 2020.
What's it about?
Belgravia is a best-selling novel by Julian Fellowes, above, which he is adapting into a TV series for ITV.
Billed as "a story of secrets and dishonour amongst the upper echelon of London society in the 19th Century", Belgravia focuses on the Trenchards, a family invited to the now-legendary ball of the Duchess of Richmond, held on the eve of the Battle of Waterloo in 1815.
What happens that evening will set in motion events that resonate for decades to come, as secrets unravel behind the porticoed doors of the grand houses of Belgravia in the 1840s.
Why watch it?
The award-winning Downton Abbey producer is back in his specialist genre of posh period drama for the new series, reuniting with his Downton Abbey team, which includes Carnival Films and producer Gareth Neame.
[Read more: All you need to know about Belgravia on ITV]
Our Girl series 4
When is it on?
A release date for Our Girl series 4 on BBC One has not been confirmed, but filming started in South Africa in April 2019, and we know that the new run will consist of six episodes.
What's it about?
Our Girl series 4 will take place one year on from 2 Section's last tour in Bangladesh.
A positive Georgie (Michelle Keegan) is making leaps in her career, having been promoted to Sergeant, and is now training a new bunch of medics.
Happily living back in Manchester with her family, Georgie is insistent to her friends in 2 Section that she's happily settled in her new job and will not be joining them on their upcoming deployment to Afghanistan, no matter how much they want her to.
However, when a night on the town results in a near-fatal incident, she can't deny that the painful memories of losing the love of her life, Elvis, to a Taliban attack, is the real reason she doesn't want to go back.
Georgie realises that she needs to return to Afghanistan to face her own fears.
Why watch it?
Michelle Keegan, above, was nominated for a National Television Award for her role in the BBC One drama.
[Read more: Michelle Keegan returns to Our Girl]
Bodyguard season 2
When is it on?
Bodyguard creator Jed Mercurio has confirmed he's "got some ideas" for a second series of the hit BBC One drama, but its leading man Richard Madden confirmed that a second series wouldn't air before 2020 as the crew "need a break", according to the Daily Mail.
What's it about?
As a second series hasn't been confirmed, we don't have a plot yet, but in season 1 of the political drama, Richard Madden's character David Budd is assigned to protect Keeley Hawes' character, Julia Montague.
Why watch it?
If you haven't watched season 1 yet, have you been living under a rock? No but seriously, catch up on BBC iPlayer now - it's the biggest new drama on British TV in more than a decade.
[Read more: What to watch after you've finished Bodyguard]
Line of Duty season 6
When is it on?
There's no current release date for Line of Duty season 6 as it's not yet been filmed, so the earliest we'd expect it is the spring of 2020.
What's it about?
There are still many loose ends to be tied up following the series 5 conclusion, and it's believed that main scriptwriter Jed Mercurio already knows what's going to happen in series 6, although he has yet to write it.
Why watch it?
Season 5 of Line of Duty was set up around answering one of telly's most burning questions: Who is the corrupt police officer known as H?
By the finale, we'd discovered that H was not one person, but was actually made up of four Caddies, signalled by original Caddy DI Matthew 'Dot' Cottan who the team noticed had been tapping out the Morse Code for H - four dots - in his dying declaration.
Mae and George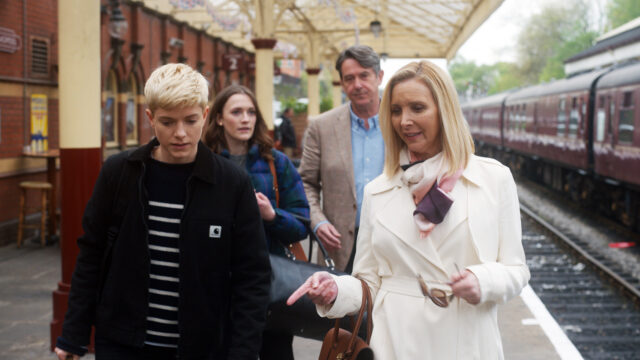 When is it on?
A release date for new E4 / Netflix comedy Mae and George (working title) has not been announced, but it started filming in Manchester in early 2019.
What's it about?
Mae and George is a semi-autobiographical comedy series that follows recovering addict and comedian Mae, who is trying to control the addictive behaviours and intense romanticism that permeate every facet of her life.
Life is further complicated by a new and all consuming relationship with her new girlfriend, George...
Why watch it?
Written by and starring Mae Martin, the show also features Friends actress Lisa Kudrow as Mae's powerful and charismatic mother Linda "who, despite living in Canada, still impacts Mae's life from afar".
Flack season 2
When is it on?
Flack series 2 will air in 2020 on W channel (BT channel number 311 / 383 HD) in the UK. A start date has not been confirmed.
What's it about?
Flack follows showbiz publicity guru Robyn (Anna Paquin) in the high-stakes world of celebrity PR in London.
Why watch it?
Daniel Dae Kim and Sam Neill join the cast for season 2, the latter cast as Duncan, who has a very complicated relationship with PR agency boss, Caroline (Sophie Okonedo).
We Hunt Together
When is it on?
We Hunt Together doesn't have a confirmed release date, but it will premiere on Alibi (BT channel 312 / 382 HD) and consist of six episodes.
What's it about?
We Hunt Together follows two star-crossed killers who are on the loose with two dysfunctional detectives in hot pursuit.
Why watch it?
It's been written by Gaby Hull (Cheat) and stars Babou Ceesay (Dark Mon£y, National Treasure) and Eve Myles (Keeping Faith, Broadchurch), above, according to TVWise.co.uk.
National Geographic, TLC, Syfy and AMC are among 60 premium channels available on BT TV.
> New to BT? Learn more and get BT TV today
> Got BT TV? Explore the BT Player
Images: 2019 Sony Pictures Television Inc. All Rights Reserved / UKTV / History / W / National Geographic / National Television Awards / Rex Features / Crime+Investigation / Syfy / BBC / AMC / ITV / Hulu