Anton Du Beke has said his Strictly Come Dancing partner, Susannah Constantine, could have been a "grower" in the competition, but that she was not a fast-enough learner.
Du Beke and 56-year-old Constantine were the first couple booted out of the series, and the professional dancer said he is sad to have left so early.
He told Chris Evans on his BBC Radio 2 Breakfast Show: "She's what I'd like to say is a grower, but sadly not briskly enough, as it turns out."
Asked by Evans if he thought "oh no" when he first saw Constantine dance, Du Beke, 52, said: "Well, I thought 'That could take some time'.
"But what I thought about Susannah is that she was really interesting and lovely and that we'd have a great time and hopefully something might come out of it, dance-wise.
"I think she would have been OK, if she could have had a bit more time, that's all. But that's the thing about Strictly Come Dancing – the show's upon you before you know it.
"You get maybe four, maybe five days to get a routine up and going, and what overwhelms you is the nerves, it's them that really debilitate you, the fear of going wrong, the fear of messing up, ironically."
Du Beke, who is the only professional dancer to have starred in Strictly since it began, has never won the show but has never before been in the first couple to leave.
He said, of former What Not To Wear host Constantine: "I thought she did incredibly well, I take my hat off to her, she's absolutely wonderful and I enjoyed every second of being with her.
"I'm just sad it's over."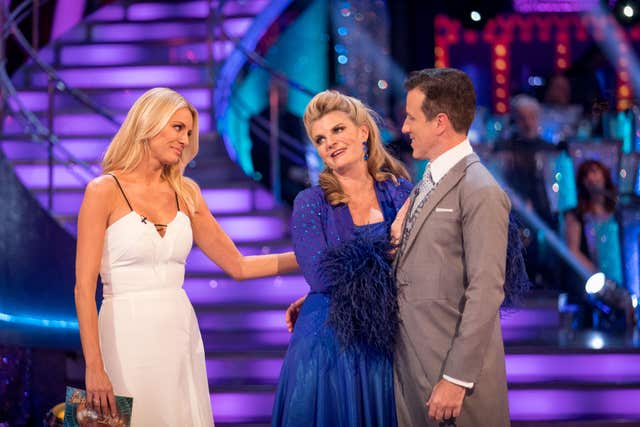 Evans said: "She was woeful, but anybody who puts themselves up to Strictly, especially if you are a little more mature than the youngsters in the show and you can't really put one foot in front of the other, even more so. The other thing is, it's the energy – you've got to be fit."
Du Beke said: "You're doing it all day, you think you'll be OK, and suddenly, the first day in the studio you're doing six, eight hours of training."
He said celebrities joining the programme often struggle with the amount of training and that there are no days off, adding: "It's one of those things you just can't explain until you've actually had a go."
Du Beke and Constantine faced Blue star Lee Ryan and his partner, Nadiya Bychkova, in the dance-off in Sunday night's results show, after coming bottom of the leaderboard.
The judges chose unanimously to save Ryan and Bychkova, which Constantine said was "the right choice" but that Du Beke was "still king".
Sunday night's results show was the most-watched programme across all channels on the day, with an average of 8.6 million viewers and a peak of 9.6 million, the BBC said.
Once again, it beat rival programme The X Factor, which drew five million viewers on average and peaked at 5.4 million, according to overnight ratings.
Strictly Come Dancing airs on BBC One at 6.30pm on Saturday.