Emmerdale actress Natalie J Robb has revealed that she had to keep her character Moira's pregnancy a secret for four months.
She also says that her character is still unsure about who the baby boy's father is, despite her claim that her nephew Pete could be the daddy.
[Moira's shocking pregnancy - did you miss this important clue?]
The latest episodes of the ITV soap saw Moira go into labour in a blazing barn following a fight with Emma - with her pregnancy a surprise for Moira and viewers alike.
Speaking about the shock pregnancy, Robb said: "Moira had no idea she was pregnant. So when she went into labour in the barn it was the first hint.
"On reflection she has recently felt tired but that was her only true symptom."
When she was told her character would have a surprise pregnancy, Robb said she researched the unlikely situation by meeting someone who had gone through the experience.
[Read more: Charity Dingle and Vanessa Woodfield set for a lesbian fling]
She said: "I expect people probably will not believe that she had no symptoms, but when I was doing research I was in contact with a really lovely lady called Caroline, who suddenly went into a surprise labour much like Moira.
"It was not her first child either so she had been pregnant a few times before but despite this Caroline also didn't know she was pregnant until she went into labour.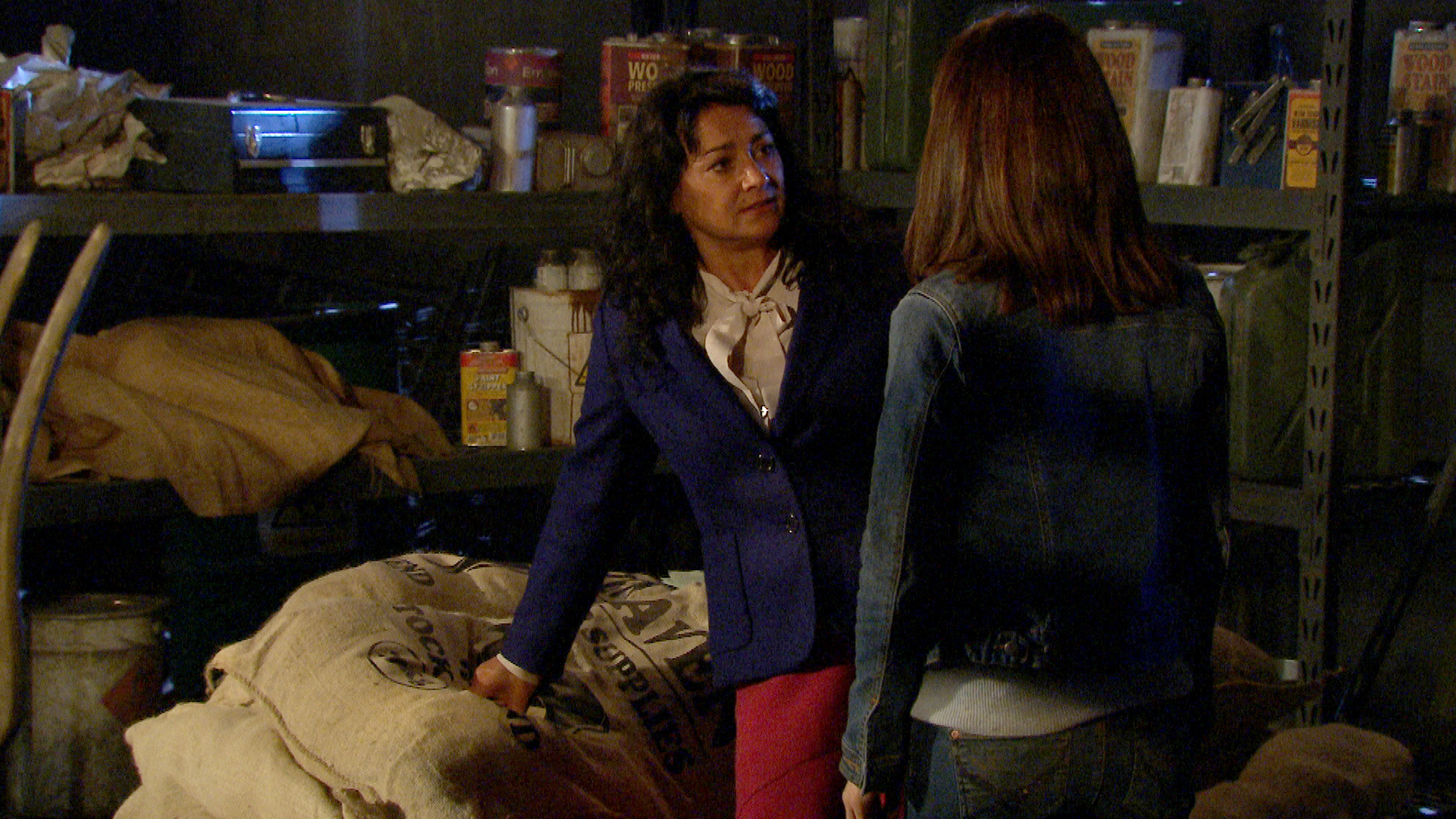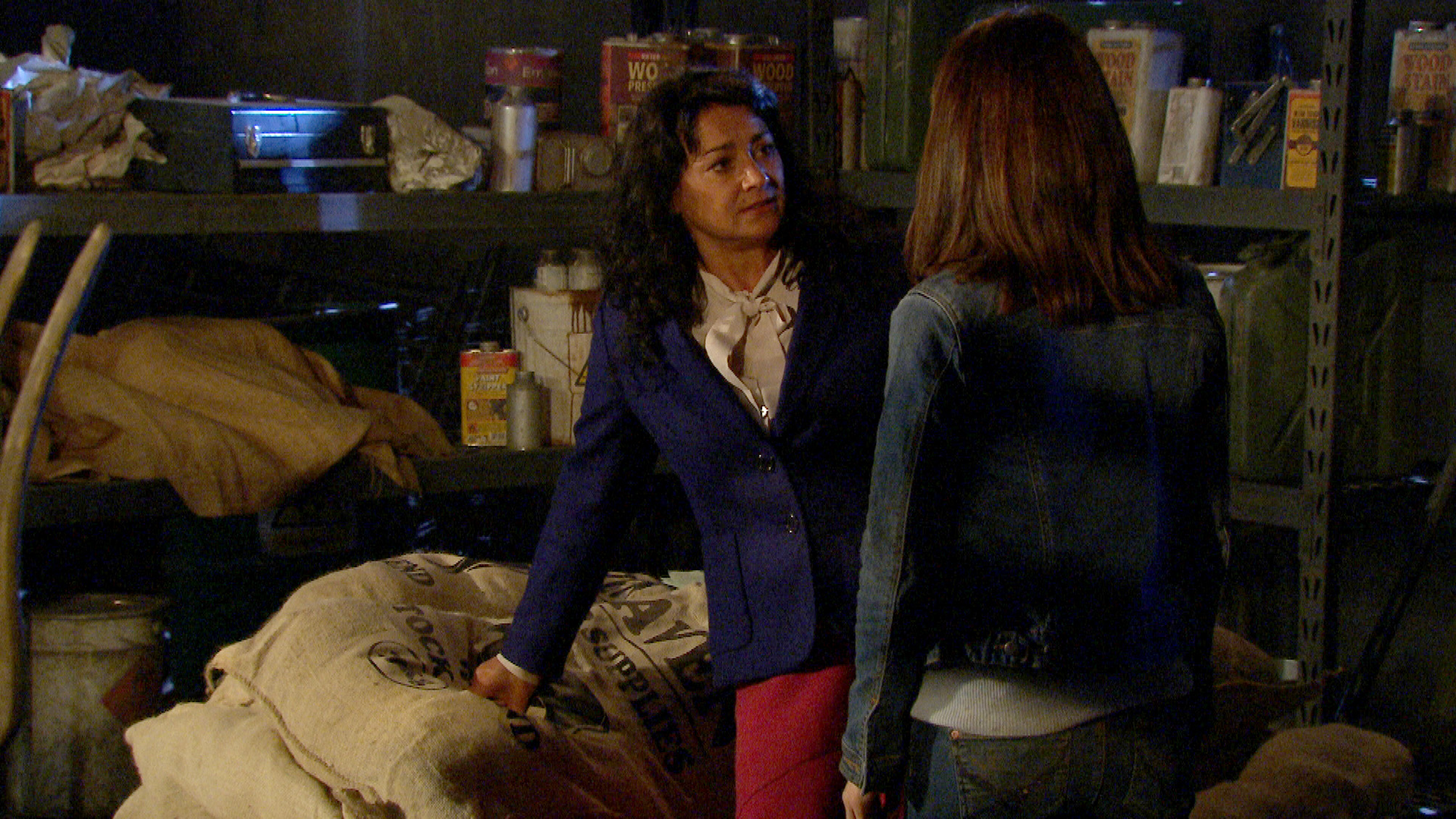 "She also had just felt a bit tired much like Moira and she explained her figure didn't really change so her bump wasn't visible, so she had no awareness until she went into labour.
"It was fascinating for me to talk to her as she really helped me understand how Moira will potentially feel after this shock birth."
The soap star said she "knew for definite" that her on-screen alter ego would be pregnant "about four months ago".
[Quiz: How well do you know the Dingle family? Take our quiz]
"The story team had cooked it up last year but it was set into proper script/story document form later," she said, adding that the pregnancy was "always in the plan" for Emmerdale's dramatic autumn season.
Who's the father - Cain Dingle or Pete Barton?
In Tuesday's episode, while experiencing the shock labour pains, Moira shouts out to Emma to help her, claiming that Emma's son Pete – Moira's nephew – is the father.
But Robb reveals that this may not be the case, and that Moira only said that to get help.
She said: "I think she just said that to get Emma to rescue her. It was the only way to stop her shutting her in the barn to die.
"I think Moira is unsure whose it is… Cain's or Pete's."
Of filming the horrific scenes, Robb said: "We had a midwife and nurse on set to help. Because Moira was asphyxiated from all the smoke, she couldn't scream or cry with the pain.
"It was good to have someone on hand to give guidance. But it was not your typical birth – a wall of fire and flames and choking from smoke inhalation!"
Fans of the serial drama have been left unsure of whether the father of Moira's baby is indeed Pete or her estranged husband Cain.
Robb said that viewers will also "have to wait and see" what happens, as Moira is "pretty poorly and has lost a lot of blood" and has a lot of complications from the birth, which ended up taking place on the grass outside the devastated barn.
Emmerdale continues on Wednesday at 7pm on ITV.