Hit Play above to watch Katherine Kelly talk her career highlights with BT TV
There must be something in the cobbles because Coronation Street has produced some stellar alumni in recent years.
Katherine Kelly is just one of the show's former stars who have gone on to hugely successful careers after leaving the street, alongside Sarah Lancashire, Suranne Jones and Michelle Keegan, to name a few.
But Barnsley-born Kelly, 39, has arguably had one of the most varied careers after leaving Britain's longest-running soap - appearing in period dramas like Mr Selfridge and Gentleman Jack, police procedurals like Happy Valley, and psychological thrillers like Cheat.
Not to mention working on something a little bit different too - presenting true crime docuseries, Murdertown, which you can read all about here.
Speaking exclusively to BT TV ahead of the second season of Murdertown on Crime+Investigation, Kelly reveals the highlights of her post-Corrie television career to date, including how period drama Mr Selfridge set the path in motion for her future acting roles...
Crime + Investigation is one of the extra entertainment channels available for BT TV customers.
> How to upgrade your BT TV package and add premium channels like C+E
Mr Selfridge - 2016
Mr Selfridge was one of your biggest roles after Corrie - how significant do you think it was in setting the path for your career?
I think what was important about Mr Selfridge is you couldn't get more opposite [to my role in Corrie]. Lady Mae and Becky McDonald were just a universe apart from each other, and I think that was important to me.
It was a compliment as well because Mr Selfridge was ITV so they saw that range in me, because they'd just seen me in Coronation Street for five years, they didn't know my body of work before then, so that was a massive compliment and I'm eternally grateful for that.
But it meant there was no doubt about any role in between that I could possibly play, which has meant that I've been able to have probably one of the most varied careers, and I enjoy being unrecognisable from character to character.
I love the challenge of that, and it's why I do it really. Some people bring the character to them, but I go to the characters quite willingly. I did that in theatre so now it's exciting to do it on screen.
Fellow period drama Downton Abbey is soon to release a spin-off movie - what do you think of a potential Mr Selfridge movie?
Oh no, I don't think there'll be a Mr Selfridge movie! What I enjoyed about Mr Selfridge is that it was always going to be four series, and it was all based on a book about the life of Harry Selfridge, and it was all mapped out from day one, and we were going to end with Harry, bless him, being kicked out of his own store, and we did that.
So there is nowhere else to go with it, there wouldn't even be enough for another series, let alone a movie, so don't be hanging on for that.
Happy Valley - 2016
What's something you learnt from your time on Happy Valley?
Happy Valley was the first police detective that I've played, so I really enjoyed that. I really enjoyed the interrogation scenes, and I think I was just so proud to be on that show.
[Fellow Corrie alumna] Sarah Lancashire is just one of the most astonishing actresses in the world actually and I don't think anyone could have played that role as well as she did. There were glorious performances within that.
I think [the show's creator] Sally Wainwright is exceptional at casting, but the show is so great because of Sarah, and it's just a joy to be in her orbit to be quite honest. I hope they do another series because I just think she's phenomenal in that part.
I'm from there [Yorkshire], where the show is set... and I know those terrace houses, and those streets, and it was so authentic.
I don't think there was a beat wrong with it. I think there's a reason why it's probably going to go down in history as one of the best shows ever made I think.
Sally Wainwright recently confirmed that a third series is definitely happening but it's a little while off yet. Would you be up for a return as DI Jodie Shackleton?
Yeah, I love working with Sally. I don't really know how that character could be a part of a third series, because we were the team that was brought in to solve that murder, we're not actually based at that police station, so I'm not really sure if my character could come back. But yes of course, if Sally asked then I would make it work!
Cheat - 2019
It's been six months since Cheat was on air. What would your character Leah be doing now?
Raising her son... potty-training her boy, seeing if her mum will babysit! I hadn't even thought about that actually. Hopefully living a normal life after everything she's been through.
Cheat aired night after night, making it event viewing. Did that change people's response to it do you think?
I think it's a good way of telling a thriller. We like box sets, and I include myself in that, and I like to binge-watch things, it fits with my 'all or nothing' nature.
But what I enjoyed about the story being told on consecutive nights, is that the plot is so nuanced, if you had a week to wait between episodes you'd forget all those delicious delicacies in between. It needed to be watched night after night.
Good thrillers you should be at the edge of your seat, so it lends itself to storytelling in that way. It wasn't gimmicky. I felt like it was given the right slot on the right channel for the right audience. It was broken up into four [episodes] instead of dragging it out into six. I was really proud of that story.
Despite ITV saying it's a standalone drama, fans have called for a season 2 - would you be up for a return as Leah?
That's the first I've heard [of fans calling for a second series]. It's definitely standalone. Usually when you're in something, rarely is there a commission already for a second series, because they like to see how things go, because you never can predict.
But, there's usually talk of 'if it happened [in series 2]...', but there was never a discussion with that, so therefore I think that's pretty definite, sorry!
Gentleman Jack - 2019
How were you cast in the role of Elizabeth Sutherland? Did you audition?
I've done a number of projects with Sally Wainwright now and she just asked me to come and play the sister of Sophie Rundle's character [Ann Walker], so that was a real joy. They had already started filming, so they sent me all the scripts to read and it was just such a page-turner.
I've known Sally for quite a long time now and she's wanted to make the story of Anne Lister for years, if not decades, and so I was overjoyed that that was happening anyway. So for her to find a role for me that I was right for was a real compliment. It's lovely to be asked directly.
She was great actually, because I was working on something else at the time in London and Gentleman Jack filming was in Yorkshire, but they managed to make the scheduling work.
Phil Collinson produced the show, and he was one of my producers at Coronation Street - he was there when we celebrated the 50th anniversary [of Corrie] and he was also at the helm of the ship to send my character on a first class Virgin flight to Barbados, that was all his doing, so it great to see him again.
I know Sophie [Rundle] socially, we haven't actually been in a show together, so it was great to work with her.
How did you get on with the period costumes in the show?
I know it's a lot of actress's dreams, and I love history, and I'm passionate about history, so I have mixed feelings about period dramas, because I love the build up to it, I love the research, I love all that, but I'm much happier in a tracksuit.
1830s is not a user friendly look, that poodle curl look doesn't look good on anyone, and that [puffy] sleeve thing, I was like 'really?' By the time I arrived at the end of the shoot to shoot the last few episodes, they'd all kind of got used to it, so when I was laughing at how I looked they were like 'oh yeah, we do look ridiculous'.
I cannot stand corsets, they are as bad as you'd imagine them to be. There's a reason why women used to faint. So I come to period dramas with mixed feelings!
The show's been renewed for series 2 - would you be up for coming back?
There is a second series, yeah, and [my character] Elizabeth Sutherland is quite a monumental character in the story of Anne Lister because her and her sister share the land.
I'm not spoiling it for you because it's just historical fact that there was a lot of conflict about the wealth of the Walker sisters, and who got that land and things.
There's so much more story to tell, so it probably just depends on how many series Sally wants to make, and how she develops that story, because Anne Lister didn't live that long really, she lived to mid-to-late forties I think, which was quite good going in those days.
That story and that character is so fascinating that I'm sure she could make like seven or eight series [of Gentleman Jack], because it's just so rich and brilliant.
So yeah I know that Elizabeth is part of the second series, but to what capacity I'm not sure yet. I don't think Sally knows yet either, she's currently writing it.
Liar - 2020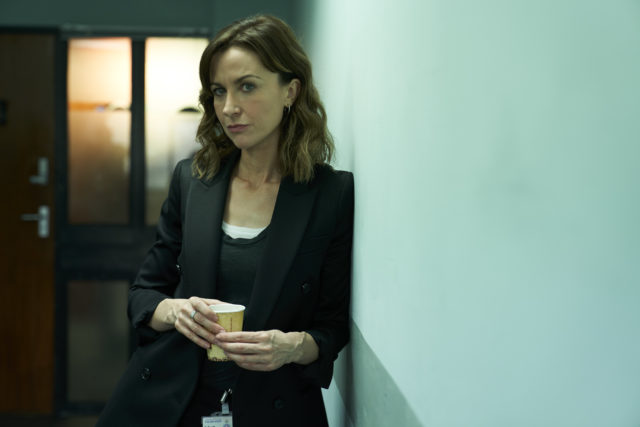 What can you tell us about series 2 of Liar?
Liar 2 will be on ITV next year I think, in 2020, and I'm part of the new series [as DI Karen Renton]. I worked with Two Brothers Pictures, Harry and Jack Williams, on Cheat, so it was a real joy to be back in their orbit.
Katherine Kelly hosts Murdertown, which returns Monday, September 16 at 9pm on Crime+Investigation (BT channel number 328 / 380 HD).
Crime + Investigation is one of the extra entertainment channels available for BT TV customers.
> New to BT? Learn more and get BT TV today
> Got BT TV? Explore the BT Player
Images: C+E / ITV / BBC