There's so much telly to get excited about this July on BT TV.
If you're looking to get your teeth into something new, American mini-series Waco has its UK premiere on Alibi, while missing plane drama Departure starts over on Universal TV.
Looking for something familiar? Wimbledon season is upon us for another year, so tune into BBC One and BBC iPlayer for all the action, while medieval drama series Knightfall returns to History.
Keep reading our must-watch guide for the month ahead, and what's coming to BT TV later this year.
And don't forget, with BT TV, you can access catch-up services for Freeview channels, watch Amazon Prime Video and Netflix, and buy or rent box sets from the BT TV Store - depending on your subscription.
Available in July 2019
Waco
When is it on?
Waco premieres Monday, July 1 at 9pm on Alibi (BT channel number 312 / 382 HD).
What's it about?
On February 28, 1993, the eyes of the world converged on a small religious community just outside Waco, Texas when the FBI conducted a raid on charismatic cult leader David Koresh and his devoted followers.
51 days later, a fire engulfed the compound, killing 76 men, women and children inside. What transpired over those 51 days remains one of the most misunderstood stories in American history.
Waco has come to evoke different ideas to different people - government recklessness, religious fanaticism, conspiracy theories, and cover-ups. But what really happened at Waco?
Why watch it?
The TV drama is led by Taylor Kitsch (Friday Night Lights, True Detective) in the title role of cult leader David Koresh, with Michael Shannon (The Little Drummer Girl, Boardwalk Empire), above, starring alongside him as FBI hostage negotiator Gary Noesner - a real federal agent who survived the siege.
Wimbledon
When is it on?
The tennis tournament starts on Monday, 1 July and be available across the BBC's TV, radio and digital platforms once again. The tournament concludes on Sunday, July 14.
BBC Sport's digital service will see every match available live and on-demand on BBC iPlayer, which is available through BT TV.
What's it about?
Wimbledon is the centrepiece event of the sporting calendar and the world's most coveted Grand Slam.
Why watch it?
The television coverage sees tennis legends including John McEnroe, Martina Navratilova, Boris Becker and Billie Jean King and Grand Slam winners Tracy Austin, Pat Cash and Kim Clijsters, as well as Wimbledon favourite Tim Henman, all give their expert views.
Knightfall series 2
When is it on?
Knightfall series 2 premieres Tuesday, July 2 on History (BT channel number 327 / 379 HD).
What's it about?
Premiering in the UK in 2018, medieval drama Knightfall is about the rise of the legendary Knights Templar and their entrustment of the Holy Grail.
Season 2 starts with the king of France (Ed Stoppard) and his army of unimaginable power in preparation to take down the Knights Templar forever.
With the historical and ruthless downfall of the Templar Order on the horizon, season two focuses on themes such as power, redemption, revenge, betrayal, family, and ultimately an epic war between church and state.
Why watch it?
Star Wars legend Mark Hamill joins the cast for series 2, playing a new character called Talus, above right - a "battle-hardened Knight Templar veteran and initiate master".
Departure
When is it on?
TV drama series Departure premieres on Wednesday, July 10 on Universal TV (BT channel number 320 / 385 HD).
What's it about?
Departure is a high-octane, drama conspiracy series that follows the mystery of Flight 716 – a passenger plane that vanishes over the Atlantic Ocean.
Following the mysterious crash, the recently widowed, brilliant aviation investigator Kendra Malley (Archie Panjabi) is called in to investigate by her former boss and mentor Howard Lawson (Christopher Plummer, above).
Why watch it?
If you spend your free time binge-watching Air Crash Investigation episodes, this brand new missing-plane drama might be one to add to your TV watchlist.
Confirmed for 2019
NOS4A2
When is it on?
NOS4A2 premieres Tuesday, August 13 at 9pm on AMC - the drama channel exclusive to BT TV customers.
What's it about?
NOS4A2 follows Charles Manx (Zachary Quinto, above), a supernatural villain who feeds off the souls of children as he transports them to Christmasland – a twisted place of his imagination where every day is Christmas Day and unhappiness is against the law.
Why watch it?
One for the Stephen King fans - the book that the show is based on was written by Joe Hill, King's bestselling author son.
The Terror season 2
When is it on?
The second season of anthology series The Terrorpremieres in August 2019 in the US, but a UK release date has not yet been confirmed.
What's it about?
The Terror season 2 is set during the Japanese American internment during World War II.
The 10 episodes follow the story of "an uncanny spectre that menaces a Japanese American community from its home in Southern California to the internment camps to the war in the Pacific".
Why watch it?
The renowned Star Trek actor, author and activist George Takei will star in the new series and also work as a consultant on the show.
[Read more: The Terror season 2 cast and characters]
Peaky Blinders series 5
When is it on?
Series 5 of British drama Peaky Blinders will air on its new home of BBC One - moving from BBC Two - in 2019, although a specific release date has not been confirmed. September 2019 is the current rumour. Don't miss it with the BBC iPlayer app, under the Players & Apps tab on BT TV.
#PeakyBlinders will return to @BBCTwo in 2019. pic.twitter.com/ncEGqupBkC

— Peaky Blinders (@ThePeakyBlinder) December 20, 2017
What's it about?
Set in the aftermath of World War I in Birmingham, Peaky Blinders is an British crime drama following the exploits of the Shelby crime family.
The notorious gang are led by the fierce Tommy Shelby (Cillian Murphy), a crime boss set on moving up in the world no matter the cost. It also stars Helen McCrory, Tom Hardy, Adrien Brody and Charlotte Riley.
Why watch it?
Peaky Blinders was hailed a critical success and a cult hit, especially for its original script and compelling performances.
Celebrities including Julia Roberts have also praised the show, confessing she was "blown away" by the British drama.
Samuel L. Jackson, Snoop Dogg, David Bowie, Brad Pitt and Tom Cruise are also said to be fans.
War of the Worlds
When is it on?
The BBC's brand-new adaptation of HG Wells' famous sci-fi novel doesn't have a confirmed release date, but it features in this thrilling trailer teasing what's coming up on the channel in 2019:
What's it about?
Set in Edwardian England, this new adaptation of The War of the Worlds tells their story of George (played by Rafe Spall) and his partner Amy (Eleanor Tomlinson) as they face the escalating terror of an alien invasion, fighting for their lives against an enemy beyond their comprehension.
Why watch it?
Wells' 1989 novel of the same name is the original and arguably the best alien invasion story, with producers saying audiences will be "terrified" by this TV adaptation.
[War of the Worlds: Everything we know about the BBC's forthcoming adaptation]
A Confession
When is it on?
There's not a confirmed release date for A Confession, but it's thought to be airing on ITV some time in 2019.
What's it about?
A Confession tells the true story of how Detective Superintendent Steve Fulcher, played by Martin Freeman (The Hobbit, Sherlock, Fargo), deliberately breached police procedure and protocol to catch a killer, a decision that ultimately cost him his career and reputation.
Why watch it?
The screenplay for A Confession was written by Jeff Pope, the Oscar-nominated screenwriter of Philomena.
Damian Lewis: Spy Wars
When is it on?
Docudrama Damian Lewis: Spy Wars will air on the History channel in autumn 2019, Variety confirmed. It will consist of eight one-hour episodes.
What's it about?
Damian Lewis: Spy Wars will reveal the remarkable true stories behind some of the most gripping and important international spy operations of the last 40 years.
Packed full of espionage, surveillance, undercover work and covert operations, the series brings forth these real events as well as the profound personal and geopolitical consequences for all involved.
Utilising innovative and highly stylised reconstructions, Spy Wars is shot on location in London, Moscow and Israel.
Why watch it?
Spy Wars is Damian Lewis' (Homeland, Billions) first docudrama role.
Emma Willis: Delivering Babies series 2
When is it on?
The second series of Emma Willis: Delivering Babies will air on W channel later in 2019, along with a one-off special in which Emma meets the babies from series 1.
What's it about?
The TV presenter reprises her role in the maternity unit at the same hospital she spent three months training at last summer - this time as a fully-qualified Maternity Care Assistant.
Emma will be on shift alongside her old team, ready to assist the hard-working staff as they help bring new life into the world. But now, it's time to put everything she's learned to the test as her days as a trainee are over.
Why watch it?
The first series of Emma Willis: Delivering Babies was a stand-out hit for W and became the channel's most-watched series of 2018, with almost a million people tuning into the opening episode.
[Read more: Emma Willis Delivering Babies reveals what it's really like to be a midwife]
The Great British Bake Off
When is it on?
The Great British Bake Off will return to Channel 4 in 2019, host Sandi Toksvig confirmed last year. A specific date has not been confirmed, but it usually starts in August. Don't miss it with the All 4 app, under the Players & Apps tab on BT TV.
What's it about?
Consider Bake Off the ultimate baking battle, where passionate amateur baking fans compete to be crowned the UK's Best Amateur Baker.
Why watch it?
The bakers try their hand at one of their signature bakes and a technical challenge each episodes, but it's the showstoppers at the end that are really, well, showstopping!
I Am The Night
When is it on?
Drama series I Am The Night will premiere in the UK this summer on Alibi (BT channel number 312 / 382 HD).
What's it about?
Inspired by true events, I Am the Night tells the gripping story of Fauna Hodel (India Eisley), a teenage girl who is given away at birth, and grows up outside of Reno, Nevada.
Fauna lives more-or-less comfortably with the mysteries of her origin, until one day she makes a discovery that leads her to question everything. As Fauna begins to investigate the secrets of her past, she meets a ruined reporter (Chris Pine), haunted by the case that undid him.
Together they follow a sinister trail that swirls ever closer to an infamous Los Angeles gynaecologist, Dr. George Hodel (Jefferson Mays), a man involved in some of Hollywood's darkest debauchery, and possibly, its most infamous unsolved crime.
Why watch it?
Wonder Woman's Patty Jenkins directs the opening two episodes, reuniting the director with Chris Pine, who leads the cast alongside India Eisley.
Rumoured for 2019
His Dark Materials
When is it on?
The eight-part series will air on BBC One in the UK and HBO in the United States, but no broadcast date has been confirmed.
In December 2018, it was announced that filming had wrapped:
"So Lyra and her daemon turned away from the world they were born in, and looked towards the sun, and walked into the sky." @BBCOne @HBO @DafneKeen pic.twitter.com/TRdzrUNdhn

— His Dark Materials (@darkmaterials) December 14, 2018
What's it about?
Based on the novel series of the same name by Philip Pullman, His Dark Materials is an epic fantasy adventure TV series following the coming of age of two children, Lyra Belacqua and Will Parry, as they wander through a series of parallel universes.
Why watch it?
Dafne Keen (who fans may remember as young Laura in X-Men spin-off movie, Logan) has been hailed as one to watch in 2019 following her casting in His Dark Materials, with DigitalSpy.com writing that she "is set to rise to even greater heights".
His Dark Materials also stars Ruth Wilson (Luther), James McAvoy (Atonement) and Lin-Manuel Miranda (Mary Poppins Returns), and is directed by Tom Hooper (Oscar-winning director of The King's Speech).
Watch the first teaser trailer for His Dark Materials below:
We're keeping our daemons close. Here's an early sneak peek of #HisDarkMaterials pic.twitter.com/DODQGDEsDm

— BBC One (@BBCOne) February 24, 2019
Liar series 2
When is it on?
A second series of ITV drama Liar will air in autumn 2019, according to RadioTimes.com.
Confirmed. Laura AND Andrew will be back for Liar series 2... pic.twitter.com/GLM7aiHTmG

— ITV (@ITV) October 16, 2017
It was announced in April 2019 that filming for series 2 had started, with Katherine Kelly (Cheat), Howard Charles (The Widow, Musketeers) and Amy Nuttall (Downton Abbey) joining the cast.
What's it about?
The first series of Liar told the tale of serial rapist Andrew Earlham (Ioan Gruffudd) and his victim Laura Nielson (Joanne Froggatt), who fought to bring him to justice.
The plot for the second series hasn't been announced.
Why watch it?
Froggatt and Gruffudd will both return for the new series, which will again be written by Jack Williams and Harry Williams of Two Brothers Pictures.
Marcella series 3
When is it on?
According to Variety.com, the third season of Marcella is coming to ITV in 2019.
A first-look picture from the set of series 3 was released in March 2019:
New Just In: @AnnaFriel is back as #Marcella for a third series... and she's on a one woman mission. Coming soon to @ITV pic.twitter.com/E5YwuQSMk6

— ITV (@ITV) March 26, 2019
What's it about?
Friel plays cop Marcella Backland, who is tackling the cases of serial killers while fighting her own demons – a series of recurring blackouts and a break-up with her husband.
The crimes got even darker in series two as Marcella took on the case of a disturbing child killer.
The plot for the third series hasn't been announced.
Why watch it?
Marcella has a strong Nordic Noir vibe thanks to writer Hans Rosenfeldt, creator of Scandanavian classic The Bridge.
Sanditon
When is it on?
Drama series Sanditon is expected to air on ITV later in 2019.
What's it about?
When Jane Austen died in 1817, she left behind just 11 chapters of her final, unfinished novel - Sanditon.
The story follows heroine Charlotte Heywood as she finds herself in unfamiliar seaside town Sanditon after an accident and sets about creating a new life for herself which sees her cross paths with the charming Sidney Parker.
Taking in locations from the West Indies to the slums of London, this is the first time the work has been adapted for TV.
Why watch it?
Sanditon is being handled by period drama pro Andrew Davies, who memorably adapted Austen's Pride and Prejudice for the BBC in 1995.
[Read more: All you need to know about the cast of Sanditon on ITV]
Our Girl series 4
When is it on?
A release date for Our Girl series 4 on BBC One has not been confirmed, but filming starts in South Africa in April 2019, and the new run will consist of six episodes.
What's it about?
Our Girl series 4 will take place one year on from 2 Section's last tour in Bangladesh.
A positive Georgie (Michelle Keegan) is making leaps in her career, having been promoted to Sergeant, and is now training a new bunch of medics.
Happily living back in Manchester with her family, Georgie is insistent to her friends in 2 Section that she's happily settled in her new job and will not be joining them on their upcoming deployment to Afghanistan, no matter how much they want her to.
However, when a night on the town results in a near-fatal incident, she can't deny that the painful memories of losing the love of her life, Elvis, to a Taliban attack, is the real reason she doesn't want to go back.
Georgie realises that she needs to return to Afghanistan to face her own fears.
Why watch it?
Michelle Keegan, above, was nominated for a National Television Award for her role in the BBC One drama.
[Read more: Michelle Keegan returns to Our Girl]
Bancroft series 2
When is it on?
The start date of the second season of Bancroft on ITV hasn't been confirmed yet, but DigitalSpy.com predicts that it will air mid-to-late 2019.
What's it about?
Created and written by Kate Brooke (Mr Selfridge), leading actress Sarah Parish (above, in season 1) plays respected police officer DCI Elizabeth Bancroft, a woman with dark secrets in her past.
In the first season of Bancroft, we met ruthless and courageous copper Bancroft. She has given her life to the police force. Consequently, she's trusted and adored by her colleagues and promotion to Detective Chief Superintendent looks assured.
Bancroft is running an operation to bring down the pernicious and vicious Kamara gang. She adopts dubious methods, but the most violent brother, Athif (Amit Dhut), rules the local town with an iron fist, so it's hard not to applaud her actions.
Why watch it?
The first season of Bancroft on ITV was one of the channel's best performing dramas of 2017.
[Read more: Is Bancroft the new Liar?]
The Man
When is it on?
A release date for The Man on ITV has not been announced, but the series began filming in September 2018, so sometime in 2019 is a safe bet.
What's it about?
The Man is a workplace psychological drama centered around middle management.
Ken Nwosu (Christopher Robin, Killing Eve) plays Thomas Benson, a hard-working father and husband who works in a business park outside of London.
Reliant on bonuses and winning pitches, Benson often finds himself leading the team when trying to win new business.
When he freezes during a pitch the fall out is monumental. Determined to win back a big client, Thomas goes to increasingly desperate lengths to remain successful.
But as he does, he begins to feel undermined, under attack and out of control. Has he lost his confidence and just feeling paranoid or is his own team, and maybe the wider world, now out to get him?
Why watch it?
The Man was created by Doctor Foster and Press creator Mike Bartlett, above.
Belgravia
When is it on?
The brand new ITV drama begins filming in spring 2019, so the earliest we'd expect it to air would be at the end of 2019.
What's it about?
Belgravia is a best-selling novel by Julian Fellowes, above, which he is adapting into a TV series for ITV.
Billed as "a story of secrets and dishonour amongst the upper echelon of London society in the 19th Century", Belgravia focuses on the Trenchards, a family invited to the now-legendary ball of the Duchess of Richmond, held on the eve of the Battle of Waterloo in 1815.
What happens that evening will set in motion events that resonate for decades to come, as secrets unravel behind the porticoed doors of the grand houses of Belgravia in the 1840s.
Why watch it?
The award-winning Downton Abbey producer is back in his specialist genre of posh period drama for the new series, reuniting with his Downton Abbey team, which includes Carnival Films and producer Gareth Neame.
[Read more: All you need to know about Belgravia on ITV]
Looking further ahead
Dracula
When is it on?
Filming for Dracula, a BBC and Netflix co-production, will begin in 2019. A release date has not been confirmed, but the series will consist of three feature-length episodes of 90 minutes each.
Mark Gatiss confirmed on Twitter in March 2019 that filming for Dracula had started:
"Welcome to my house! Enter freely. Go safely, and leave something of the happiness you bring!" #Dracula pic.twitter.com/NuKPS1YVEt

— Mark Gatiss (@Markgatiss) March 4, 2019
What's it about?
According to the BBC, this re-imagining of the famous tale will reintroduce the world to Dracula (Danish actor Claes Bang, pictured above), the vampire who made evil sexy. In Transylvania in 1897, the blood-drinking Count is drawing his plans against Victorian London. And be warned: the dead travel fast.
Why watch it?
It's been written and created by Steven Moffat and Mark Gatiss, known for their work on Doctor Who and Sherlock.
Bodyguard season 2
When is it on?
Bodyguard creator Jed Mercurio has confirmed he's "got some ideas" for a second series of the hit BBC One drama, but its leading man Richard Madden confirmed that a second series wouldn't air before 2020 as the crew "need a break", according to the Daily Mail.
What's it about?
As a second series hasn't been confirmed, we don't have a plot yet, but in season 1 of the political drama, Richard Madden's character David Budd is assigned to protect Keeley Hawes' character, Julia Montague.
Why watch it?
If you haven't watched season 1 yet, have you been living under a rock? No but seriously, catch up on BBC iPlayer now - it's the biggest new drama on British TV in more than a decade.
[Read more: What to watch after you've finished Bodyguard]
Line of Duty season 6
When is it on?
There's no current release date for Line of Duty season 6 as it's not yet been filmed, so the earliest we'd expect it is the spring of 2020.
What's it about?
There are still many loose ends to be tied up following the series 5 conclusion, and it's believed that main scriptwriter Jed Mercurio already knows what's going to happen in series 6, although he has yet to write it.
Why watch it?
Season 5 of Line of Duty was set up around answering one of telly's most burning questions: Who is the corrupt police officer known as H?
By the finale, we'd discovered that H was not one person, but was actually made up of four Caddies, signalled by original Caddy DI Matthew 'Dot' Cottan who the team noticed had been tapping out the Morse Code for H - four dots - in his dying declaration.
Mae and George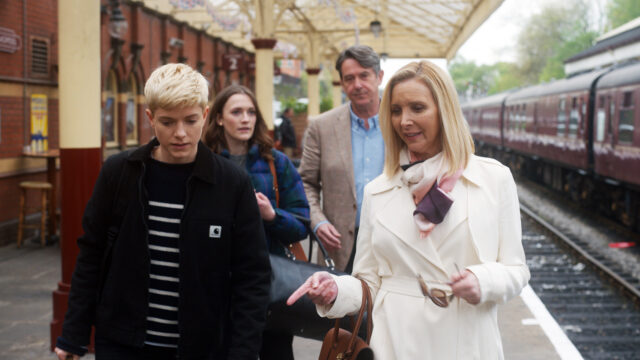 When is it on?
A release date for new E4 / Netflix comedy Mae and George (working title) has not been announced, but it started filming in Manchester in early 2019.
What's it about?
Mae and George is a semi-autobiographical comedy series that follows recovering addict and comedian Mae, who is trying to control the addictive behaviours and intense romanticism that permeate every facet of her life.
Life is further complicated by a new and all consuming relationship with her new girlfriend, George...
Why watch it?
Written by and starring Mae Martin, the show also features Friends actress Lisa Kudrow as Mae's powerful and charismatic mother Linda "who, despite living in Canada, still impacts Mae's life from afar".
Traces
When is it on?
A release date for new Alibi drama Traces has not been announced, but casting was confirmed in May 2019.
What's it about?
Traces is a suspense-filled crime thriller told from a fresh point of view, where forensic science takes centre stage.
Set in Scotland and exploring the world of SIFA, the Scottish Institute of Forensic Science, Traces introduces us to three compelling and very different female characters - Emma Hedges, Professor Sarah Gordon and Professor Kathy Torrance - who together will use the rigors of forensics to uncover the truth about an unsolved murder case.
Why watch it?
Alibi confirmed an award-winning cast for its first UKTV Original, including Molly Windsor (Three Girls, Cheat, above), Laura Fraser (The Missing, Breaking Bad) and Jennifer Spence (You Me Her, Travelers), alongside Line of Duty star Martin Compston.
National Geographic, TLC, Syfy and AMC are among 60 premium channels available on BT TV.
> New to BT? Learn more and get BT TV today
> Got BT TV? Explore the BT Player
Images: 2019 Sony Pictures Television Inc. All Rights Reserved / UKTV / History / W / National Geographic / National Television Awards / Rex Features / Crime+Investigation / Syfy / BBC / AMC / ITV / Hulu